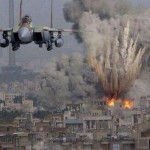 Update: Thank you all for coming yesterday. We will upload photos and a report soon. — A demonstration calling for an immediate end to the bombing of Gaza, to the killing of civilian population and a call to declare a ceasefire now.
Monday, July 14th, 2014, at 6:30PM
Václavské náměstí (under the St Wenceslas statue)
"We will protest against the bombing and killing of the population in the Gaza Strip, and against the military attacks in the West Bank, East Jerusalem, but also in Israel. We will call for the end to the occupation of Palestine that has so far lasted 47 years, and we will call for a just solution to the question of Palestine."
Join the facebook / nyx event. Thanks for sharing. Česky zde.
Since July 7th, when Israel declared its new military operation "Protective Edge" (aka "Solid Rock"), at least 90 people have been killed, mainly civilians, out of which at least 21 have been children. The youngest child was 18 months old Mohammed Malakiyeh. There have been injured at least 560 people, mainly children, women and elderly. The number of dead and injured is increasing every day. Behind each number there is a concrete name, a concrete story, a human being. On the Israeli side there have been three slightly/moderately injured soldiers so far.
As declared by the Israeli government, the situation will escalate and it can be assumed to have similar results as the previous Israeli military operations in Gaza: Pillar of Defence in 2012 in which 167 people died, and Cast Lead in 2008/2009 in which 1400 people died.
"We demand an immediate end to the bombing of Gaza, to the killing of civilian population and to the escalation of violence in Palestine and in Israel. We demand an immediate ceasefire. We demand that the international community apply pressure towards ending the occupation of Palestinian territories."
Organizers:
Palestinian Club in the Czech Republic – https://www.facebook.com/palestinacze
ISM Czech Republic – ism-czech.org
Posters for spreading